The short answer is that we are doing anything and everything to keep busy and to make our last few days/weeks with Blythe special. I would be lying if I didn't admit that I have had a few brief pity parties. Not because I am in any real physical discomfort, but simply psychologically. I only allow myself a few brief minutes to go down the "why am I so late, why does this baby need longer, is everything o.k., why am I not holding this new baby." Then I pull out my big girl panties and pull 'em nice and high to remind myself that these are all arbitrary dates and there is so much to be thankful for. I remind myself that I would MUCH rather be late than too early, spending time in the NICU. I remind myself that in reality these last few 'over due' days have been great family days.
Tomorrow is my 41 week appointment where I will do a non-stress test and they will take a look at the baby to make sure that he/she is still happily baking in there. A very small part of my brain drifts over to the 'if the non-stress test doesn't come back with good results then we will get to see baby soon,' but the realistic and more powerful part of my brain hopes that this little one will be able to make his/her grand appearance on their own. These 'due dates' make you selfish, but I am not going to give into it, nope, I am going to keep enjoying friends company, living every day as though it will be our last as a family of 3 and pray for the safe, healthy, and God timed addition.
Out of curiosity we went back to look at our chart from Blythe and compare her conception date to her incubation time with this one. Results = based on conception date this baby would of had a due date of July 5th and would have been born on July 4th if it was in the womb the same number of days as Blythe. All that really should make me feel not so 'late,' but when you have had the 1st in your head for 40 weeks and then you do this analysis its not exactly that easy to reset yourself psychologically, but like I said physically I am doing exceptionally and I have to assume the one in the womb is doing the same.
So what have we been up to? We have had many dates with the hose: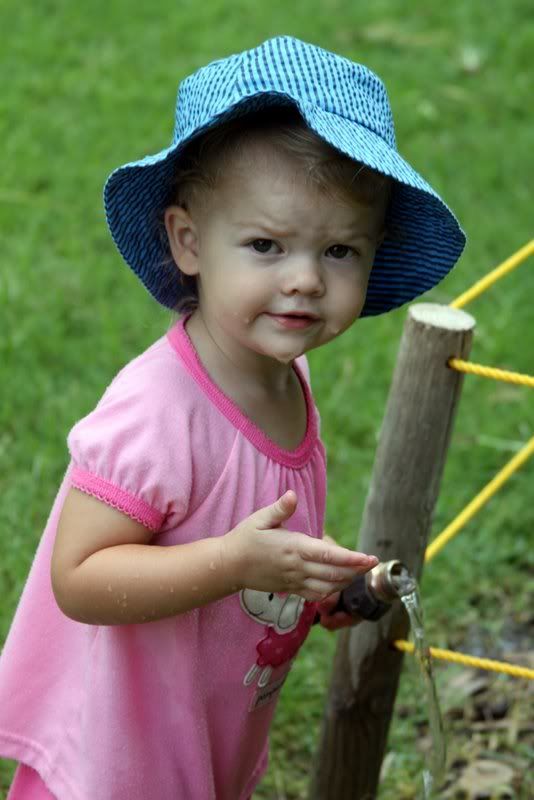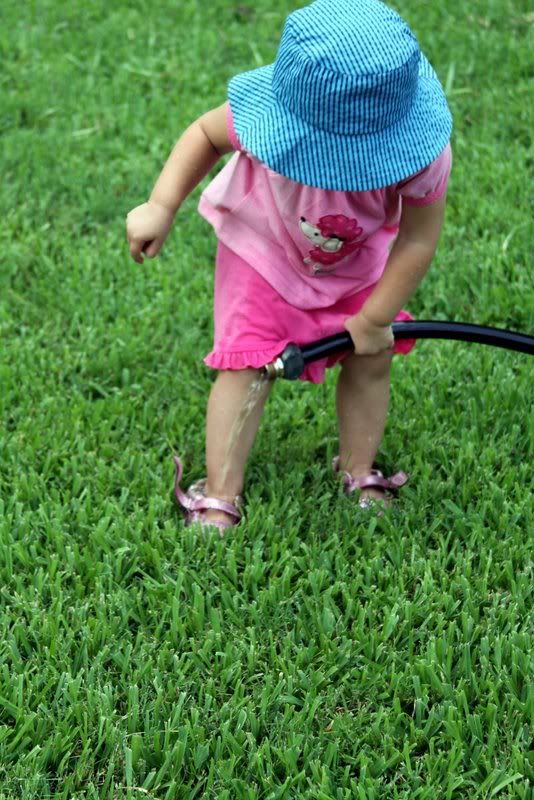 We celebrated the 4th of July at the neighbors house poolside and then made a late night showing of fireworks held by the George Bush library.
We took Blythe for her first McDonald's experience simply because they had an indoor playground and I thought she needed some exercise (according to Jason this is very white trash, but hey we did it :)).
We have invaded friends houses in the evenings to let our littles play and we have enjoyed friends at public pools.
This baby will eventually decide to grace us with his/her appearance and boy will there be a CELEBRATION!
And here I am at 40 weeks