Despite the fact that we all know that our 'due date' is just an arbitrary date or an educated guess at best, we still find ourselves clinging to the idea that we will be holding our precious blessing by this 'date.' As you remember last Wed. I was "as ripe as one could be without being in labor," and Dr. Sanders even bet us a 6 pack of Dr. Pepper that we wouldn't make it to today. Well today has come and almost gone and no signs of #2. Of course he encouraged us and said that everything was looking great for a fast labor and it should happen any day now. He also promised to bring our 6 pack of Dr. Pepper to the deliver room. We went ahead and made an appointment for NEXT Wednesday at 10am, just in case, but he will allow us to go the full 42 weeks if we want.
Of course I am starting at a 4 (YEEHA) and the baby is active, healthy, and head down, so really I should be thankful for all these things, which I am. The problem is that both Jason and I feel like we are ticking time bombs and this does not lead to very restful nights. We lie in bed and try to clear our mind only to be bombarded with a whole array of useless what if questions that we just can't seem to shake from our over active minds. We never hit this stage with Blythe because we had prepared ourselves to be late and then she surprised us with her grand entrance 2 days before the due date. I have to admit that I feel completely silly being this antsy and impatient, so to speak, seeing as tomorrow is the due date, but non the less that's where we are. We are still cherishing our last moments as a family of 3, but we are also ready to be a family of 4.
Our Little Fish
Almost every evening we have been going over to the neighbors house to swim because it is HOT and its a great family activity. Not to brag or anything, o.k. yeah I'm bragging cause my little one is a rock star in the water, but Blythe has turned into quite the little fish. She will jump off the steps and swim to your arm and pull herself up or she will jump out of your arms and swim back to the steps. It is amazing how much she improves in just a few days. Her latest trick is the crab walk where she walks her hands along the side of the pool from one set of steps to the other. She thinks this is pretty cleaver and I have GOT to get a picture of her beaming face when she is doing that.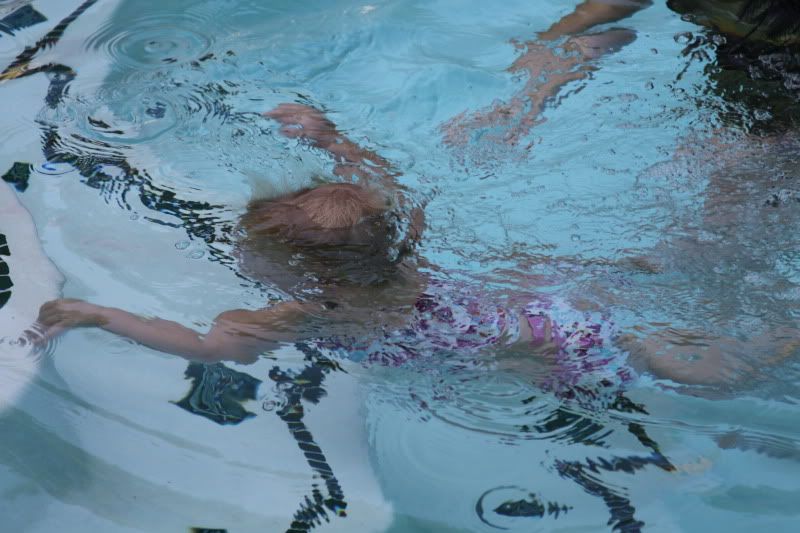 Christmas in June
Last week we pulled out the infant items (swing, bouncy seat, car seat, etc.) and Blythe has been in HEAVEN. She had taken a break from her baby obsession, but she is full force again. With babies and bears going in and out of all the infant contraptions. She is such a sweet little mommy to her babies.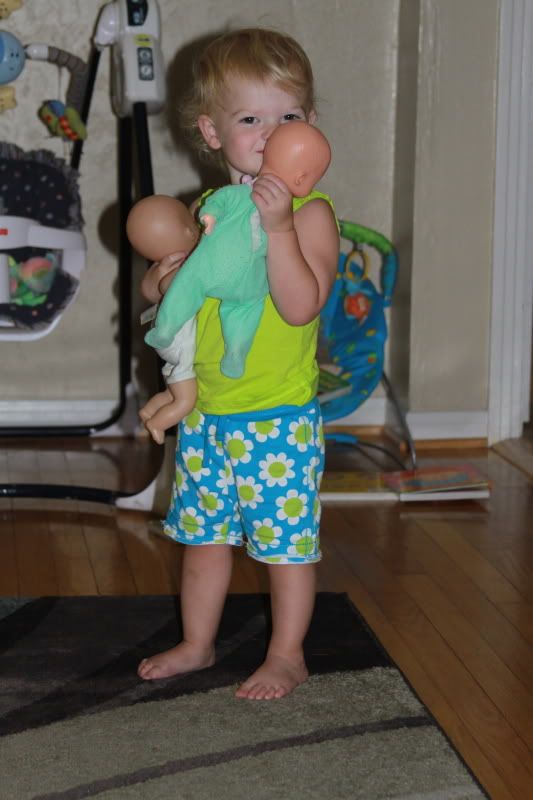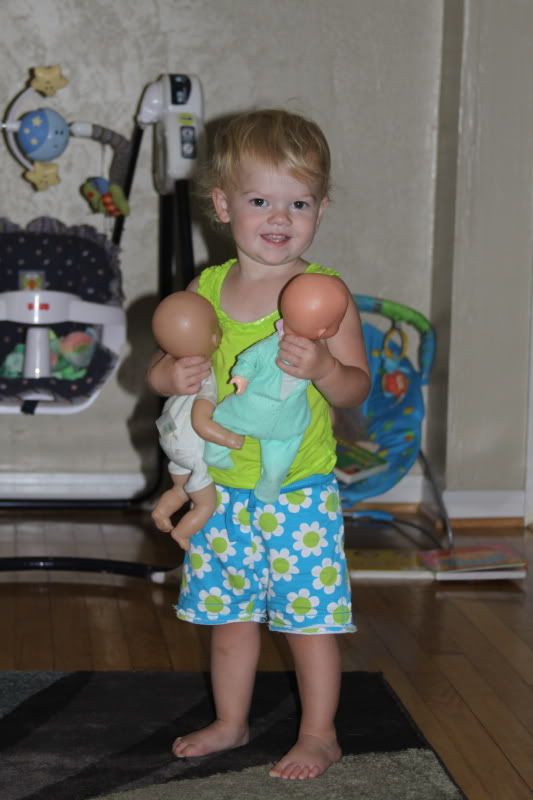 I just love how she lays down on her tummy to color with that concentrated face and how she she occasionally looks up at me with this smirk on her face like she knows she is big and doing big girl things.