I took the leap today, I let go, I took a chance, I forced myself to let go and be brave... Today we hired a babysitter and it was....GREEE-AT [insert the Kellogs tiger cartoon character from years ago "their GREEAT"]. To be fair we know her through Jason's cousin and she has hung out with us before, but this was the first time we left the girls with a 'babysitter.' I prepped Blythe all day telling her how Ms. Erin was going to come over and play with her while Mommy and Daddy went on date and she was going to help take care of Jericho. Blythe helped me make dinner for her and Erin (homemade macaroni and cheese and chicken nuggets). I had Erin come over 30 minutes before we planned to leave so she could get acquainted and so I could see that all was well and not be fretting about it the entire date. After about 10 minutes Blythe was completely smitten with Erin and I could tell there would be no qualms with us leaving.
Jason's lab mate had told him about a $5 Bingo deal on Thursday nights so we decided to give it a shot. I had looked up the information online and it might as well have been written in a foreign language because I know NOTHING about Bingo and they used Bingo Lingo on the website. We decided we would walk in and ask some question and then decide whether or not we wanted to stay and play. We expected the crown to be outfitted with wheelchairs, walkers, lots of grey hair..basically lots of old people, but that was far from what we saw. When we first walked in it was pretty desolate except for a few people on the electronic machines who probably needed to check out the "do you know someone who has a gambling problem" icon on the website. The first thing we noticed was the smell of smoke, instant turn off. We almost turned around and walked out without even getting more information. Luckily we noticed a glass area, picture a rectangular fish tank, and we thought, oh maybe that is a non-smoking area. It's a good think we stuck around and asked our questions because for $5 we got to play 5 games each with 12 faces (this is the Bingo Lingo for Bingo cards) and 2 beers each!
When we first sat down they had a speed round going and when they say speed they mean speed, were talking calling the numbers as fast as humanly possible, I was getting nervous just listening to the caller. Jason and I decided we would make our lives a little easier by highlighting the squares we were going for. There was the
double postage stamp
, the straight line, the floating 6 pack, the T, and the cross. If you click on the link above you will see what I am talking about. They gave us a piece of paper with the different games and we thought the black squares were the only ones so that is what we highlighted on the different games. We were afraid they wouldn't be calling much slower than the speed round and we were nervous. Come to find out the black squares are just one of the possible combination and not the ONLY combination for that Bingo...hello waste of time highlighting and good luck remembering what all counts and seeing it, but we didn't figure this out till half way into the first game. We were sitting across from some regulars so they helped us out so we knew which games were being played when and what we were looking for. Jason thought we had more time before the first game was going to start so he went out to get his second beer and it started. I am pretty sure my heart was racing and my hands were shaking and the thought of having to maintain 24 faces. I quickly scanned mine and then Jason's furiously stamping all the numbers (they waited a good 15 seconds in between each number so it was not nearly as fast as the speed round). Jason returned after 2 numbers were called and I proudly told him that I had his all stamped up and ready to go and he looked very unimpressed as I stamped them regardless of whether they were the black squares as shown on the card. He said no we should only stamp them if they are in the correct location, so I obliged, and about 4 numbers after that we are informed that the double postage stamp can be in any of the four corners not just the two shown on the sheet. UGH there was no time to catch up and now I was really flustered as I didn't want to miss out on a possible Bingo. Shortly after this and still flustered I notice that one of my twelve bingo cards was only one away from a Bingo, and right about then Jason glances over and says "your pretty close on that one". The caller calls out 64, I look down, stamp my card, check it once more to make sure I am seeing it correctly, raise my hand and then yell out BINGO..Jason quickly looks at me and says no, no, I look back down and realize that I got ahead of myself I needed a 62 NOT a 64, so I quickly (all flustered and red faced) try to play it off and say "on ho, never mind." I'm pretty sure I heard a few "dumbass," "loser," etc. comments from behind, but hey I wasn't going to let that rain on my date night. So I got over excited, fumbled, looked like a fool, yelled out Bingo in the middle of a huge Bingo hall when I in fact had NO bingo and on the very next number 6 people legitimately called out Bingo..live and learn right? Neither Jason or I ended up legitimatly getting a Bingo and as much as I hoped someone else would be a fool and yell out a false Bingo I was the only one who walked away with that honor. I have to say for $5 that was a heck of a lot of fun and we will probably be seen in that Bingo hall again. Luckily I am about to cut 10 inches off my hair, that's another post for another day, but hopefully they won't remember me.
We came home to 2 happy babies, a happy babysitter, which made us very happy parents!
Jericho's New Trick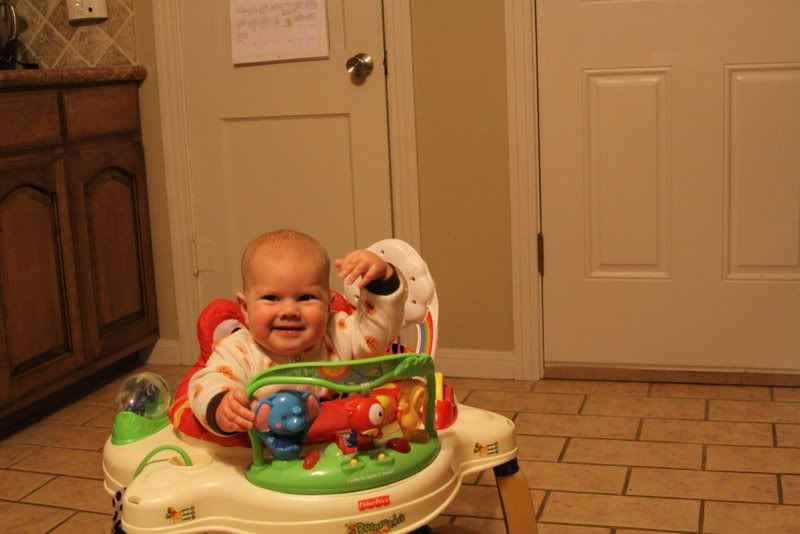 And when you walk into the room and see this, you just have to laugh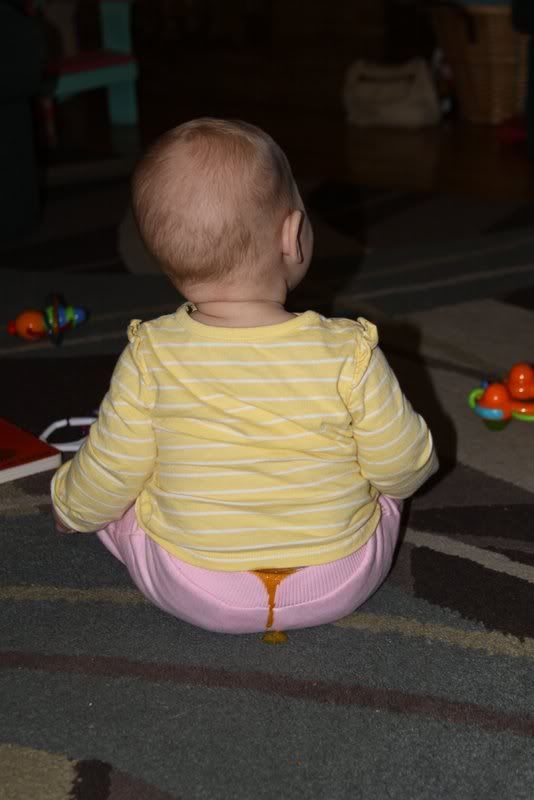 well laugh, take a picture or two, and then deal with the explosion.
Have a Great Weekend!