It started on Tuesday with a one hour meet the teacher and hang out in the room with your mom. Despite the fact that I had prepped Blythe on several occasions that today we would all be going to her classroom together to meet her teacher and it would be really short Blythe did not want to leave and she asked me when I was leaving so she could be at school by herself. Can we say someone was ready for this day?
Not knowing what the first 'real' day of preschool would be like we arrived early to get some pictures, but Blythe was far more interested in getting to her classroom and getting this school thing underway than taking pictures.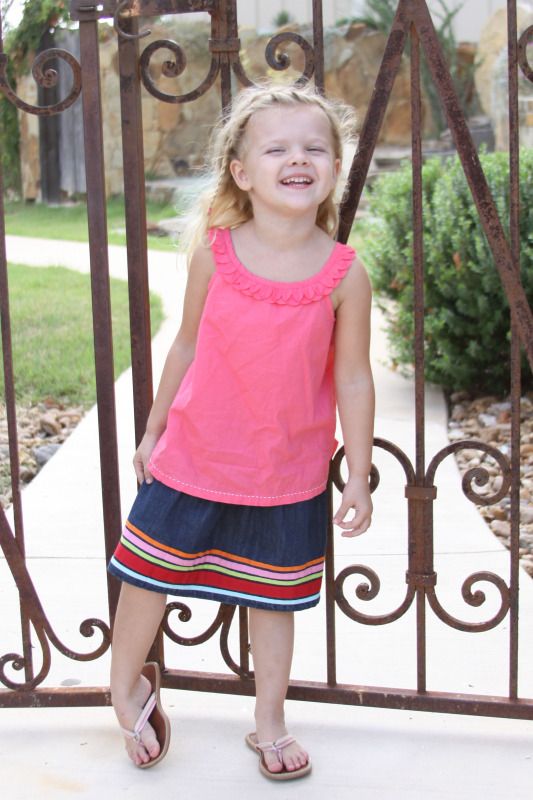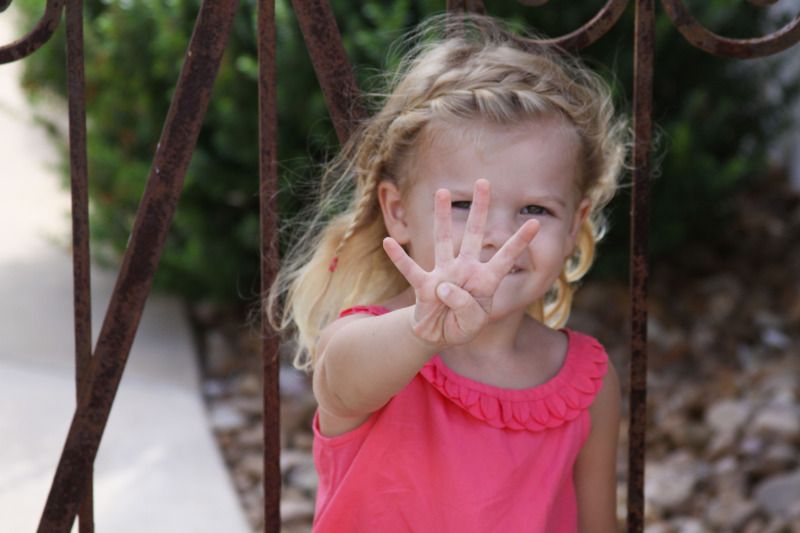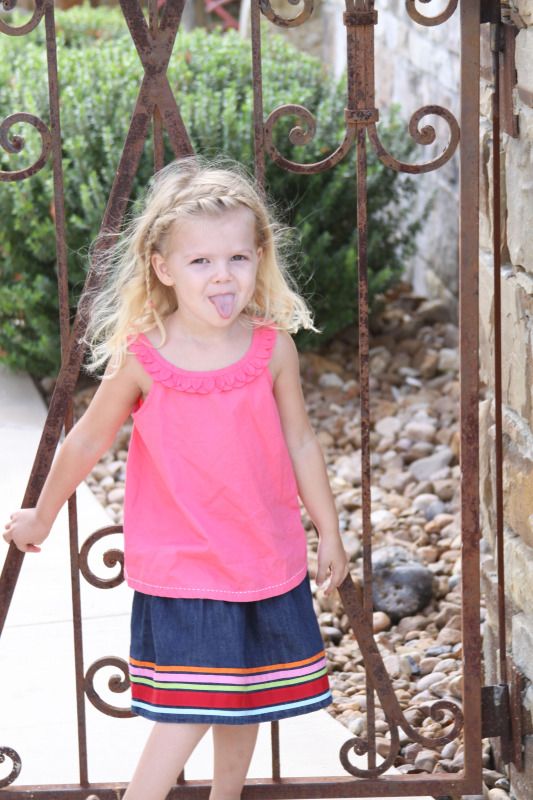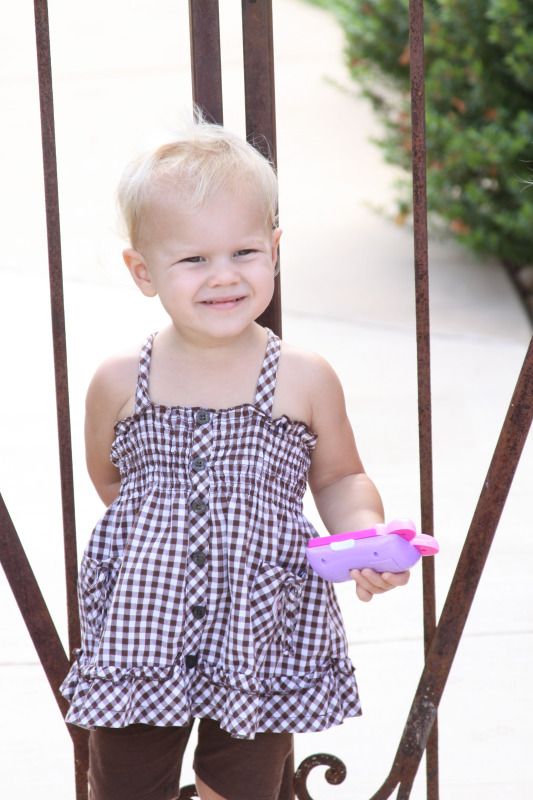 When we arrived she looked around the table and found her name tag. We didn't think that we knew anyone in her class, but come to find out that family that just moved in down the street, the one I baked the cherry pie for, their youngest Hayden is not only in Blythe's class, but sits right next to her!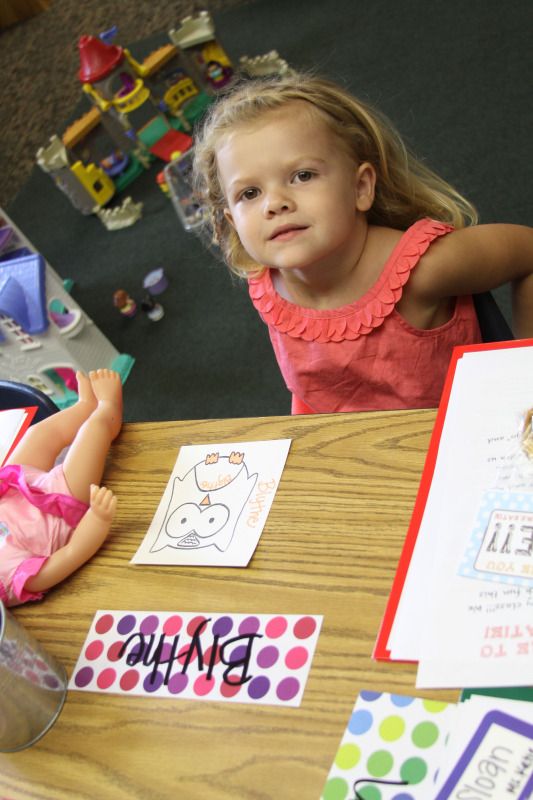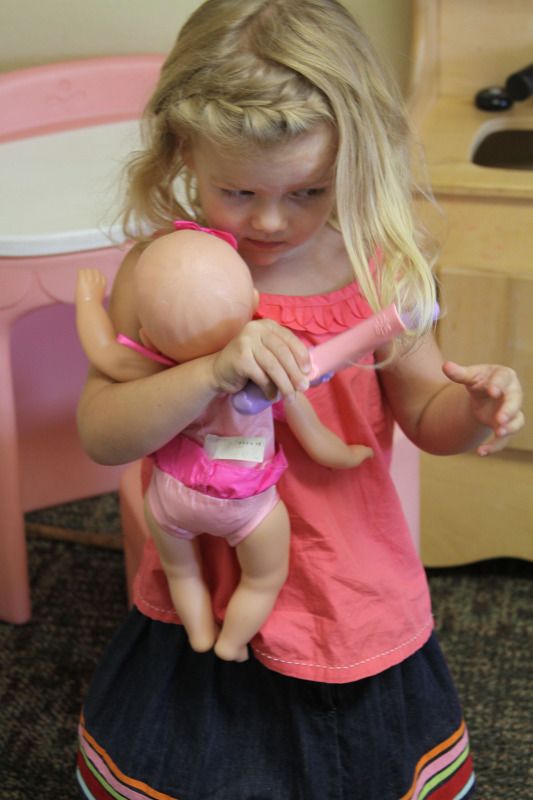 She found her name and her hook and practiced hanging up her bag.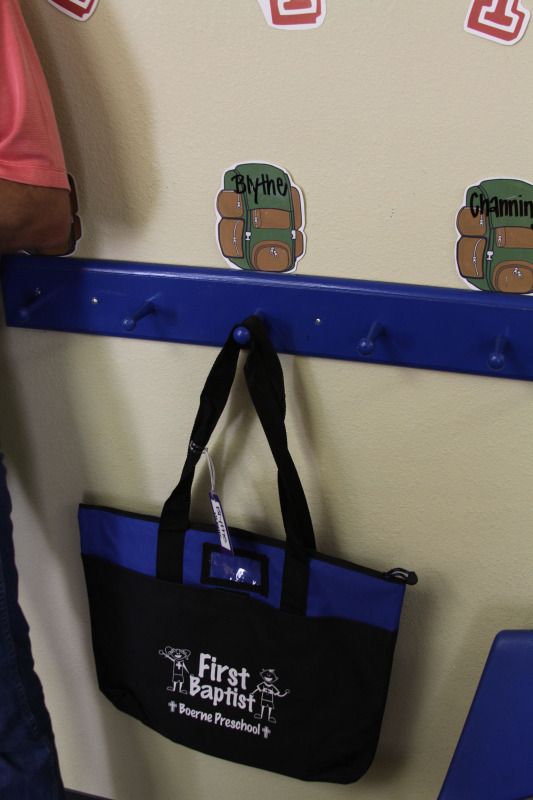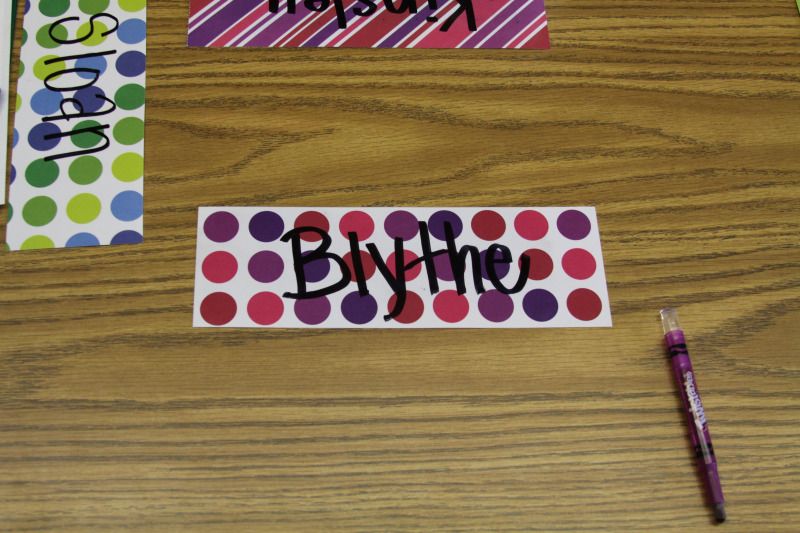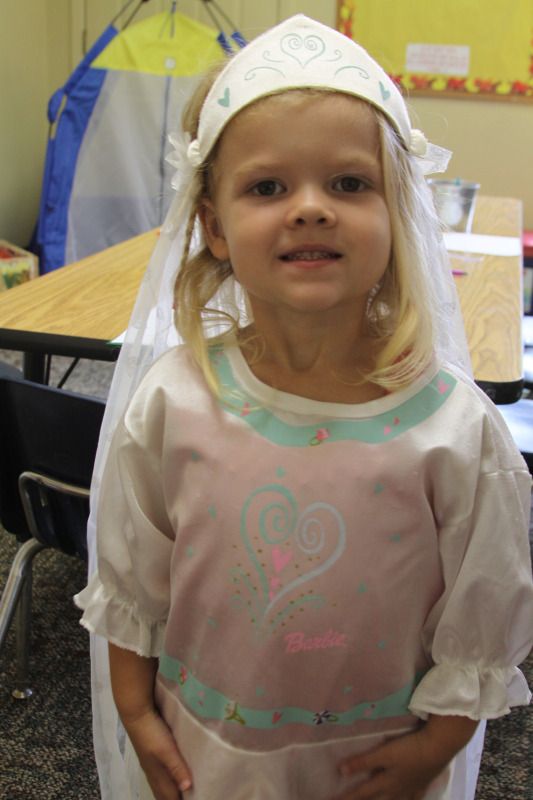 Fast Forward to today, the real FIRST DAY OF PRESCHOOL, Blythe woke up ready to go. I printed off a sign for her to color to give her something to do seeing as it was only 7:30 and we didn't need to leave till 9:00 at the earliest.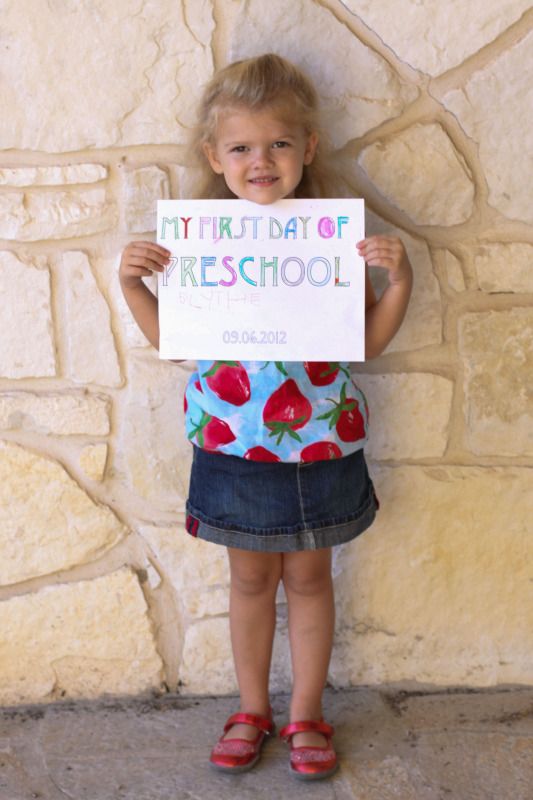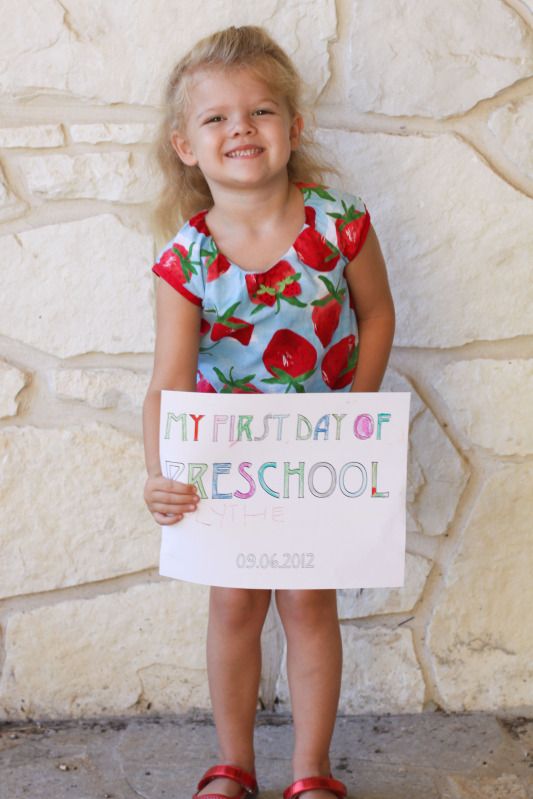 The 9:00 hour, o.k. 8:57 finally arrived and we loaded up. As soon as we arrived Blythe grabbed her bag and was ready to go.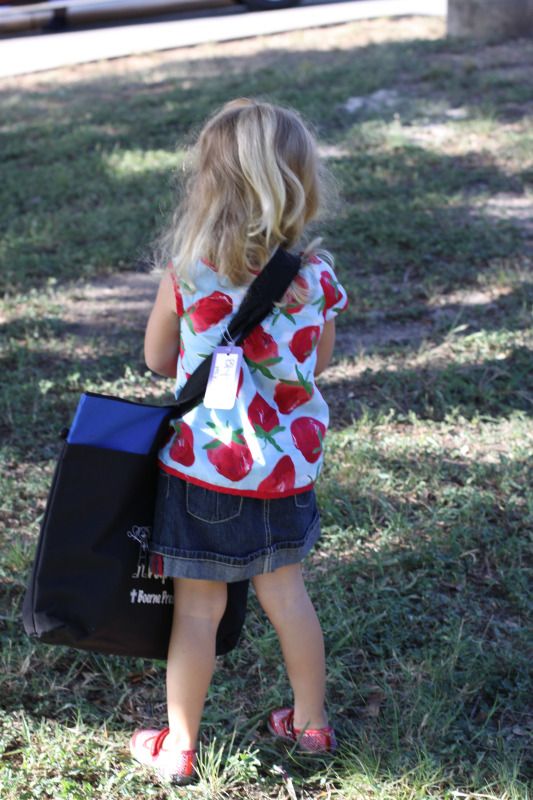 Someone else thought they were ready too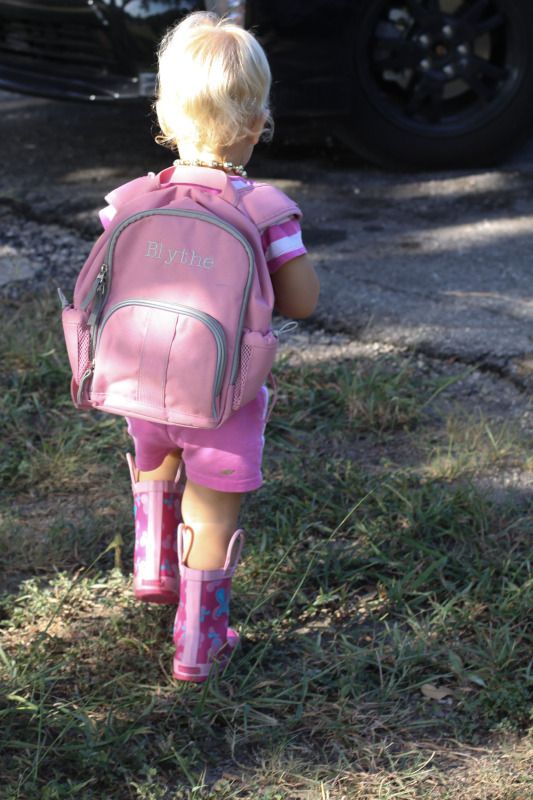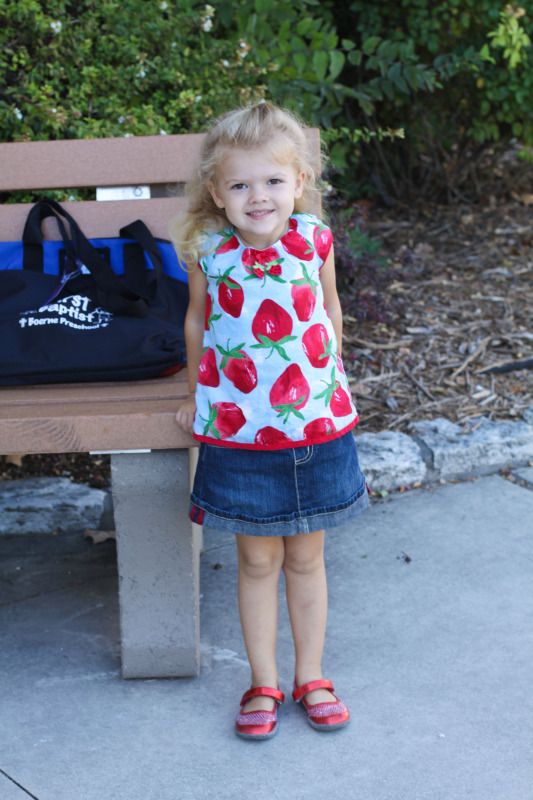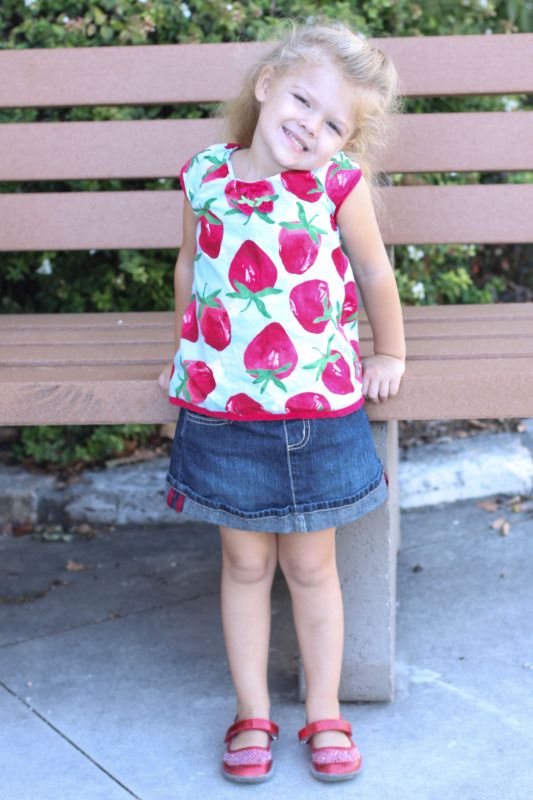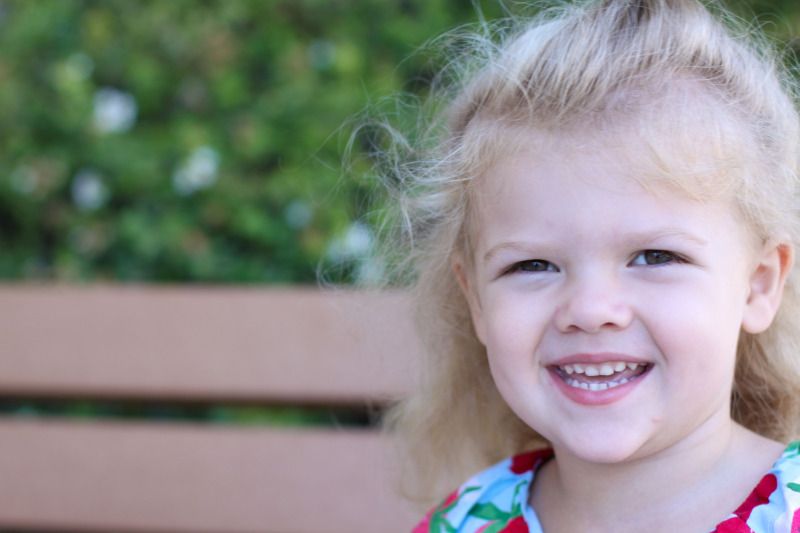 She needed no reminder to hang her bag or where it went
She promptly went to her seat and was excited to find a coloring page
Then something came that I wasn't expecting. I started to tell Blythe goodbye and I could feel my eyes getting red and tearing up.... Jericho and I said our goodbye's, Blythe couldn't get rid of us fast enough, and I didn't make it one cm further than stepping into the parking lot before a little tear ran down my cheek. I didn't make it to the car, but I don't think anyone saw me, and besides it was just a few. I got Jericho buckled in and sat in the parking lot for a few minutes reflecting on those tears. The tears of happiness and a little sadness. The happiness of knowing that my girl is right where she needs and wants to be. She has been so ready for this, so ready to go to school and I know she is having a great time. Sadness that I have had her all to myself for the last four years and the amount of time she spends away from me will only grow from here. But most of all I reflected on the word grow. The way that she will grow and blossom this year and me too. That letting go and experiencing these emotions is all part of motherhood. BUT I would be lying if I didn't say that I keep checking the clock to see if it's time to go get her and hear all about her first day. I am confident that I will be greeted with a giant smile and each day I drop her off will be a little easier.
As for little sister she made-up for Blythe being so ready to be at school by crying almost the entire time I was at the church book club. The last few times I put her in the nursery for church events she has been find and she was even excited about going to the nursery like Blythe was going to school, she marched right in all ready to go, I said goodbye and I guess that is where the happiness stopped. When I picked her up she did that really big whale of a cry to let me know she was NOT happy that I left her and continued to do that deep sniffling for about 20 minutes after we left the church. I don't know what all that was about, perhaps because Blythe wasn't there with her or just an off day, but either way Jericho wanted me to know that she was NOT ready for that.