In anticipation of Jason's arrival from Scotland Blythe and I made a "Welcome Home Daddy" poster. Blythe first decorated it with markers, then she tried crayons, but found they didn't write very well on cardboard. At one point she had several stickers on the poster, but those slowly migrated to other crevasses of the house. Friday morning Blythe and I headed to the Children's Museum to put the finishing touches on the poster with paint. Blythe really enjoys painting and the museum has a great set-up for it. After the paint dried I wrote in Sharpie on the poster and Blythe was not happy that she could not participate in this part.
The flights from DFW to College Station and vise verse usually get in about 10 minutes early. Knowing this I planned to leave at 5:15 to get there no later than 5:30 so Blythe and I would surely be there when Jason excited the plane from a 5:45 estimated arrival time. I had Blythe practice standing with the sign and saying "Daddy." My intention was to have Blythe standing all cute and proud with her sign calling for daddy as he exited the plane and I would be just a few feet behind her capturing it all on camera. I am usually good at executing my plan and being on time, but I have to admit that I failed. We ended up leaving the house 5 minutes late and of course Jason's flight arrived more like 15 minutes early. By the time we arrived he had already collected his luggage and I had a missed call. I was hoping that he had called right when his flight had landed giving us 2 minutes or so to get inside. I got Blythe out of the car seat as fast as a 38 week pregnant lady can and we ran inside with our sign. Jason met us at the door. So my vision of how we were going to greet Daddy didn't exactly pan out, but Blythe still got to give him his sign and I think he still felt special. Of course it would have been better if we were there right when he walked off the plane, but I guess you have to roll with what you get. We'll do better next time daddy, promise!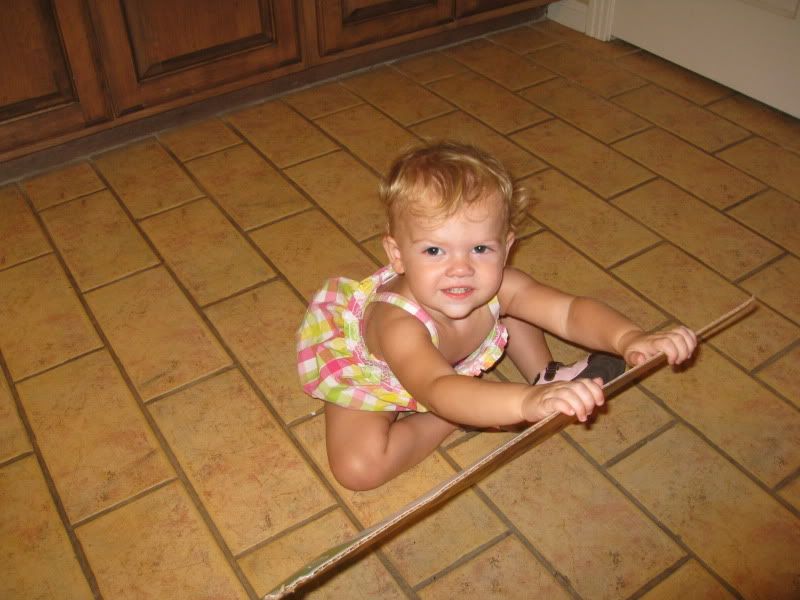 We had a very restful Father's Day. We celebrated mass as a family and then stumbled upon some old Married Couple's friends. I have to admit that I had to do a double take because they live in Austin and we also have not heard from them in 8 months since they had their daughter. We were excited to cross paths and they even had time to come over for home made waffles. It is always so nice to get to catch-up with friends and is there anything sweeter than seeing your little play with friends littles? Blythe was very eager to 'help' out and to share her toys with Bethany. Thanks for squeezing us in Bullet and Kendra!
We wrapped up Father's day with a tasty dinner at The Road House. Oh and what better way to celebrate Father's day than to have your little one wear one of daddy's old outfits?