Jason turned the big 27...EEK only 3 more years till 30, that's scary!
Blythe really enjoys helping to cook so I decided that she should make daddy a birthday cake. When I asked her if she wanted to make him a cake her face lit up like a little kid on Christmas morning. She knows that bake means that we get to get out all the good stuff and make a big mess! She proudly climbs up onto the step stool getting herself at hip height with the counter and points to the flour cabinet and says "need this." I quickly pulled up a recipe on the computer and away we went. She had her Blythe mixing bowl and very meticulously mixed in the flour, baking soda, cocoa, etc. Of course she had to sample each ingredient on the way into the bowl, only to make sure they were the freshest ingredients possible. I was surprised she didn't make a really funny face when she sampled the baking soda, but I guess she knows what she's looking for.
To be fare, as much as she loves to help cook, I think she might enjoy the clean-up process just as much and sometimes more, especially when licking chocolate is in the cards. After the batter went into the baking dish and into the oven she knew it was clean-up time so she slid the step stool over to the sink and said "need soap, water, wash."
It's a joy to bake and clean with you my little one!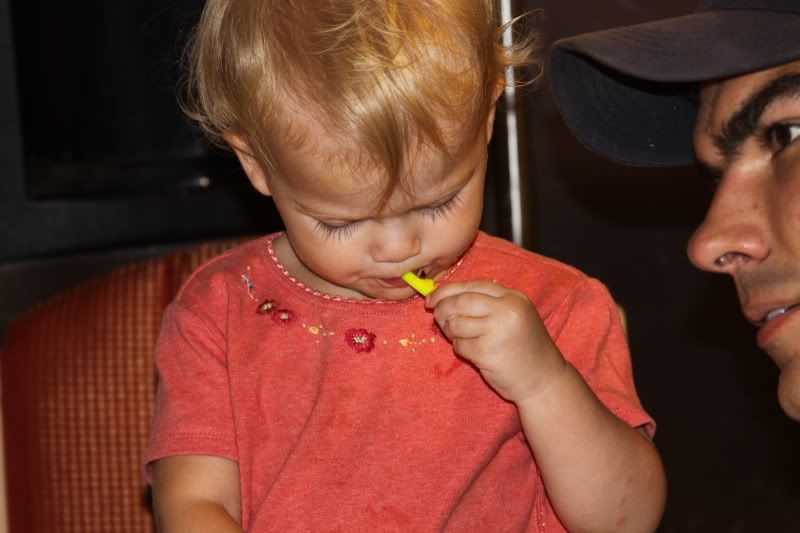 It might be daddy's birthday cake, but Blythe knows how to clean-up the candles!
"Oh no, I can't watch, what if he doesn't get them all blown out in one breath"
We also want to send a special thanks to Gigi and Grandpa who stopped by to celebrate with us. We ate delicious pizza from Leaning Tower and shared the birthday cake!
Happy Birthday Daddy, we LOVE you!